sure safe training
who are we?
Watercress Road, Cheshunt EN7 6XJ
sure safe training
who are we?
Watercress Road, Cheshunt EN7 6XJ
about sure safe training
SureSafe Training is a professional organisation providing outstanding training solutions to individuals, groups and corporates. Guided by our purpose and promise of 'Connecting Minds', we believe in providing cost effective training to truly transform and engage.
SureSafe training is an accredited centre with Qualsafe Awards and covers a wide range of courses including First Aid, Health and Social Care and Childcare Courses. Our team of qualified and experienced instructors are perfectly suited to deliver the courses, which are recognised by many organisations, including Ofsted.
Our training quotes are competitive, all inclusive based on your specific training requirements, number of delegates and training location. Our specialist trainers are all awarding body registered and will come to your chosen location at your preferred time and date to deliver the highest quality training courses to enhance skills and help your business stay compliant.
We offer trainings all across London including Barnet, Enfield, South Gate, Haringey, Islington, Harrow, Waltham Forest, Edmonton, Barking, Dagenham, Newham, Mill Hill, Golders Green, Chingford, Ilford, Muswell Hill, Woodford, Stratford, Tottenham, Walthamstow, Hendon, Romford. We also cover Cheshunt, Hertfordshire, Harlow, Stevenage, Southend, Luton, Stansted, Bishop's Stortford, Essex, Loughton, Watford, St. Albans, Hemel Hempstead, Welwyn Garden City, Hitchin.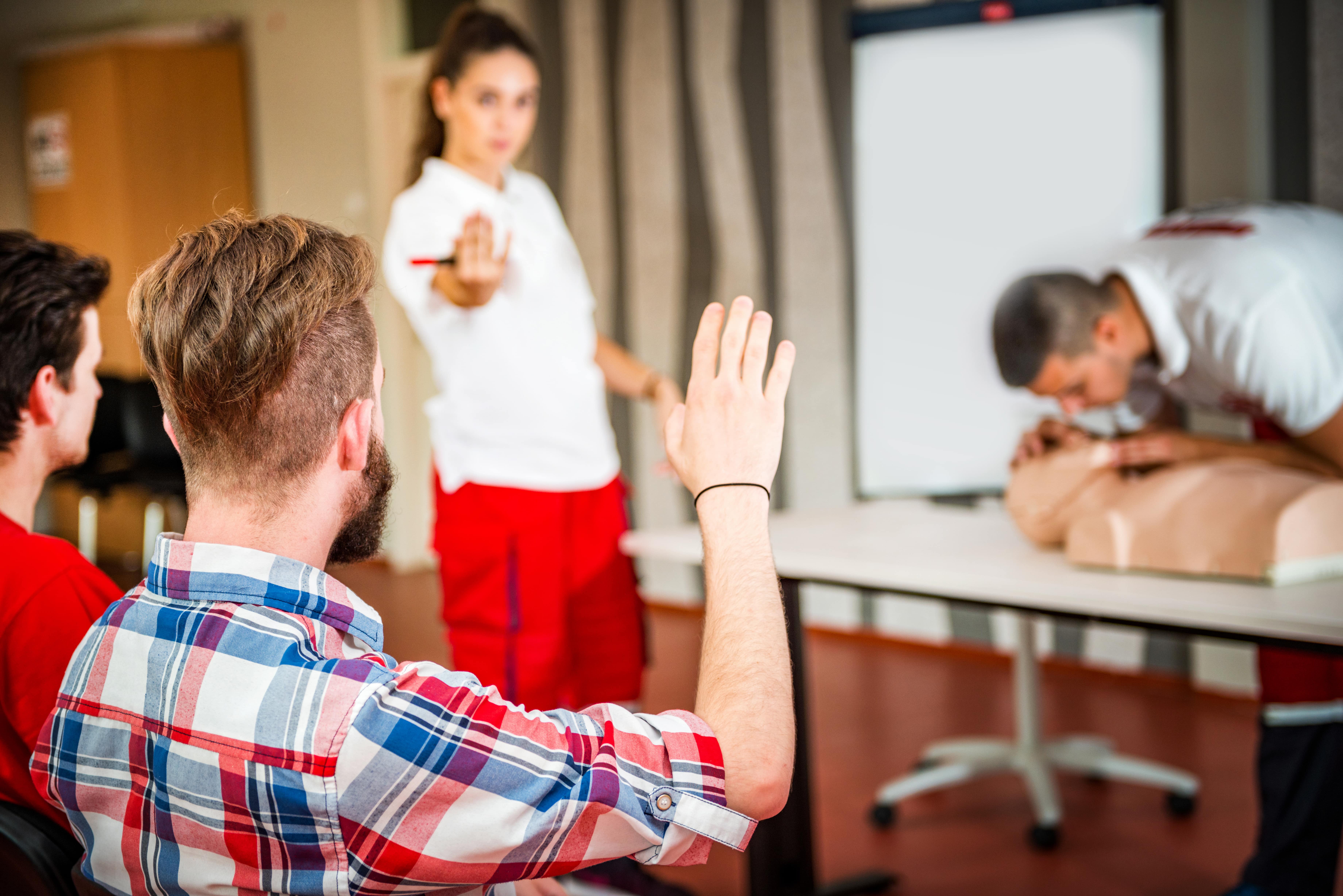 Do our First Aid courses comply with UK Resuscitation Council Guidance?
All of our First Aid courses comply with the latest UK Resuscitation Council guidelines (2015) and updates are provided when changes are made.
Who is the awarding body and how long is my certification valid?
All the First Aid certifications are Qualsafe approved, which is one of the largest Ofqual recognised Awarding Organisations in the UK. The First Aid Certifications are valid for 3 years. Basic Life Support and AED Certifications are valid for 1 year.
what is blended learning?
Blended learning is a blend of online distance learning and practical, part of face to face learning.
SureSafe Training offers the popular First Aid At Work training – Blended Learning, that includes 6 hours (1 day) of online pre-learning and 12 hours (2 days) of practical face to face training with our experienced trainers.
First Aid at Work Re-qualification-Blended learning updates the First Aid skills of those who need to renew their First Aid at Work Certification. It includes 6 hours of online pre-learning and 6 hours of practical face to face training with one of our experienced trainers.
How many candidates are there in a group?
We have a maximum of 12 people on the First Aid courses. This enables a comfortable learning environment and is viable for the practical sessions too. COVID-19 restrictions apply.
Why choose SureSafe Training?
Our goal at SureSafe Training is to ensure we provide an informative, cost effective training that enhances your necessary skills. The trainings are of high standard with effective quality assurance as they are delivered by skilled, qualified, experienced trainers.
SureSafe Training is proud to be approved by Qualsafe Awards.
What is our cancellation policy
We acknowledge that sometimes there is a need to cancel or alter training plans. If the training needs to be cancelled, please provide notice of cancellation at least 7 working days prior to the course start date for full payment refund.
CANCELLATION POLICY:
More than 7 days: Full payment refund
48 hours –7 days: 50% payment refund and rescheduling fee.
Less than 48 hours: No Refund
What documents do I need to bring with me on the day of my course?
Candidates need to bring along one photographic identification document such as Passport, Driving Licence or valid EU Photo ID Card.
What are the First Aid Qualifications offered and what certification is ideal for me?
Emergency First Aid at Work (1 day – 6 hours), Emergency First Aid Awareness (Half day – 4 hours), First Aid at Work (3 days – 6 hours each day), Paediatric First Aid (2 days -12 hours ), Emergency Paediatric First Aid (1 day-6 hours). All the above certifications have a validity for 3 years.
At SureSafe Training, we can offer our expert advice on what course will be well suited for you and your business.
What is an RQF?
All the First Aid qualifications are RQF (Regulated Qualifications Framework) which means that they are regulated and nationally recognised.
Can you provide a venue for training?
If you have a group to be trained, we can come to your venue of choice. Alternatively, we can provide a venue for your group in London Enfield.
Are there any requirements to undertake a course?
Anyone who is 16+ can undertake a First Aid course and other courses in Health & Social Care / Childcare section of the SureSafe Training website.
A basic command of English (defined as Level 2) is required. If English is not the first language we can provide additional support if we are notified in the pre-requisites of the training booking.
What qualifications do the trainers have to teach?
All the trainers hold a formal teaching qualification PTLLS / AET which is a Level 3 Award in Education and Training. They are also approved by Qualsafe Awards for the First Aid Courses. In addition SureSafe training ensures that the trainers are annually moderated for the Quality Assurance.
How long does it take for me to get my results / certification?
E-certifications are provided within 2-5 working days of the assessment results being submitted .
Printed certifications will be posted at no additional costs within 7 days of submission of the assessment results.